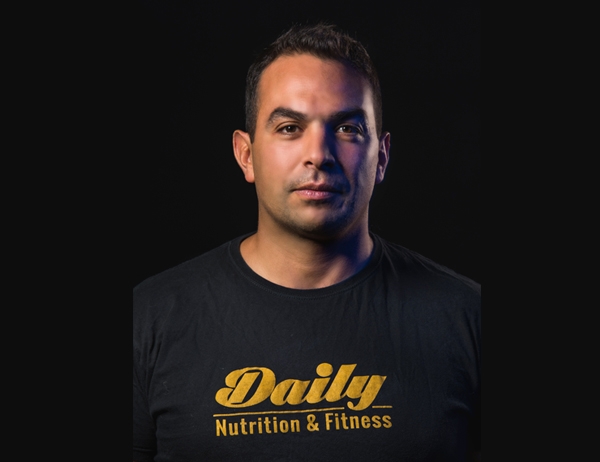 George Tsatsaronis
Managing Director | Coach
George Tsatsaronis is the founder and co-owner of Daily Nutrition and Fitness who was born in sport, driven by the thirst for knowledge and backed by science.
The initial contact with the competitive sports world was at the age of 8 through tennis. At his middle and high school he was able to be part of the basketball, soccer, and volleyball teams but what grabbed his attention was boxing, at the age of 13. By the age of 19, he was competing for his University which brought two gold medals in the 81 kg category in the intercollegiate championship. It was time for a change and again a team sport was what was needed. Rugby was the longest-lasting sport he took part in, from 19 years old to 33, and started from college-level which leads to US collegiate national selection and continuing in a highly competitive national team for the Greek side.
"Rugby was a never-ending school from the attributes of professionalism in sport to character building"
In parallel to the sport of rugby, George was introduced to CrossFit as the athletic training program which was already followed in the past years.
Training in CrossFit and competing at the international level for Rugby seemed like a perfect fit and lasted up until his retirement from rugby. CrossFit was intriguing as it involved a fully functional and safe manner to stay at the top of your game and touched on one identical lifelong lesson, keep playing and enjoying sports!
"CrossFit made sense, as the movements were all familiar and the training routines were already done, but not as well structured"
Competing in CrossFit was as unique as the sport itself. You against the rest of the athletes in the arena while completing the same workout. The attributes of sport are when you work as a team you are only as strong as your weakest athlete. After six competitive years, the time had come to step out of the arena and stand by the sideline. The challenge was accepted as coaching and giving back to athletes and later clients of all levels were inevitable.
After two successful CrossFit businesses, over 400 athletes being trained, and endless academic development, it was time for Daily Nutrafit - the online resource for training and nutrition.
CF L2, CF-Gymnastics, CF-Weightlifting, Current Judge, CF Scaled, Minor in Weightlifting in Conditioning and Training. Currently, he has been accepted for the CF L3 examination and is studying for it.
He sought out to get the best training programs available out to any level athlete/client as very few coaches provided spherical knowledge in the ever-evolving concept of training smart, always evolving, and staying safe!
Have the knowledge of a Ph.D., communicate it to a kindergartner, and never stop evolving.